Location: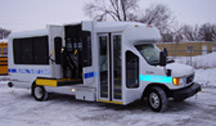 229 E. Park Ave.
Waterloo, Iowa 50703
Phone (319) 233-5213 or 1-800-369-3022
Fax (319) 235-2891
TDD or TTY users may contact us by calling Relay Iowa at (800) 735-2942
Over-the-phone interpreting is available for riders who have limited English proficiency by calling RTC

Office Hours for Reservations/Information: Monday-Friday 8:00 a.m. - 4:00 p.m.

Transit Service Hours of Operation: Monday-Friday 6:30 a.m. - 5:00 p.m.
The Iowa Northland Regional Transit Commission (RTC) provides transit services within the INRCOG region. All services are open to the general public, including persons with disabilities. In addition to providing transit, RTC is responsible for coordinating transportation in the region.
RTC does not discriminate against any person on the grounds of race, color, national origin, sex, age or disability. No person will be excluded from participation in, or denied the benefits of, or be subject to discrimination under any project, program or activity funded in whole or in part by the Federal Transit Administration (FTA). RTC will not discriminate against any employee or applicant for employment because of race, color, religion, sex, or national origin, and shall take affirmative action to ensure the applicants and employees are not discriminated against during employment. If you feel that you or someone you know has been discriminated against by RTC or its employees please contact the INRCOG/RTC Title VI Coordinator at (319) 235-0311 or Iowa Department of Transportation Office of Employee Services-Civil Rights at (515) 239-1422 immediately. Discrimination complaints will be handled progressively beginning with the RTC Operations Manager. Appeals will be elevated to the RTC Transit Manager for consideration and to the INRCOG Executive Director, if necessary, for final determination.
RTC shall also make special efforts to ensure that all services, activities, and programs are fully accessible to and usable by persons with disabilities, and will comply with all pertinent federal regulations. Individuals who need a modification or accommodation to a service, activity, or program, should submit a request for accommodation in writing to RTC's Operation Manager via mail, e-mail, or fax. Requests that require immediate attention can be communicated by phone to the RTC Operations Manager. Anyone who wishes to file a complaint alleging discrimination on the bases of disability in the provision or services, activities, and programs of RTC, may do so by following RTC's ADA Complaint Process found here.
RTC operates 21 light duty buses, of which 17 are used for our services and 4 are contracted to regional sub-providers who provide service on our behalf. We offer demand response service in Independence and Waverly and subscription service elsewhere. The current per ride average cost is $3.50 within Independence and Waverly. For rates elsewhere in our service area, please contact the RTC office. The table below provides a brief statistical overview of our service over the past three (3) fiscal years.
Number of Rides

Miles of Service

Hours of Service

FY'12

FY'13

FY'14

FY'12

FY'13

FY'14

FY'12

FY'13

FY'14

Sale of Service

45,914

39,026

39,958

179,569

183,010

284,511

8,361

8,118

8,799

Purchase of Service

114,802

123,479

127,132

260,104

268,489

349,777

16,980

16,193

16,476
In addition to the service we directly provide, a number of sub-providers offer contracted open-to-the-public transit service to regional residents on our behalf. Those subcontractors include:
Agency Name
Service Area
Rates and Service Hours

Chickasaw County Council on Aging
(641) 394-3173

3 mile radius of New Hampton

Monday - Friday 8:00 a.m. - 3:30 p.m.
Adults: $2.00 per ride
Children: $1.50 per ride
20-Ride tickets available for purchase

Country View
(319) 239-6114

Black Hawk County

Monday - Friday 5:00 a.m. - 8:00 p.m.
$25.00 per ride

Exceptional Persons, Inc. (EPI)
(319) 235-9058

Black Hawk County

Monday - Friday 5:00 a.m. - 5:00 p.m.
$14.10 per trip within Black Hawk County

RTC Riders Guide (Click to download Adobe Acrobat Reader to view the RTC Riders Guide.)

Additional information on RTC and other transit systems in the State of Iowa can be obtained through the Iowa DOT's Office of Public Transit website.


Related Links
Iowa Public Transit Association
MET Transit


Contact

Ed Holm , Director of Transit
Ashley Bakula , RTC Operations Manager